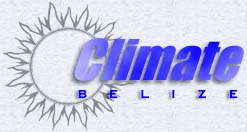 The climate is sub-tropical, tempered by trade winds. Rainfall varies from an average of 51 ins. (1,295 mm) in the north to 175 ins (4,445 mm) in the south, with the main dry season usually extending from February to May. In coastal districts temperatures range from about 10 degrees Celsius (50 degrees Fahrenheit) to 35 degrees Celsius (95 degrees Fahrenheit); inland the range is greater.
The coolest months are November to January. Belize lies in the path of the Atlantic hurricane belt, with the last major strike being that of Hurricane Hattie in 1961, which caused extensive damage in Belize City, the former capital and major urban center.
Satellite picture updated regularly courtesy of the Weather Channel
Find out more about the Belizean...
Geography | History | Economy | Climate | People
Back to main Page